Seminar Info
---
March 16, 2017 10:00 AM
PIDS Conference Room, 18/F Three Cyberpod Centris-North Tower, EDSA, Quezon City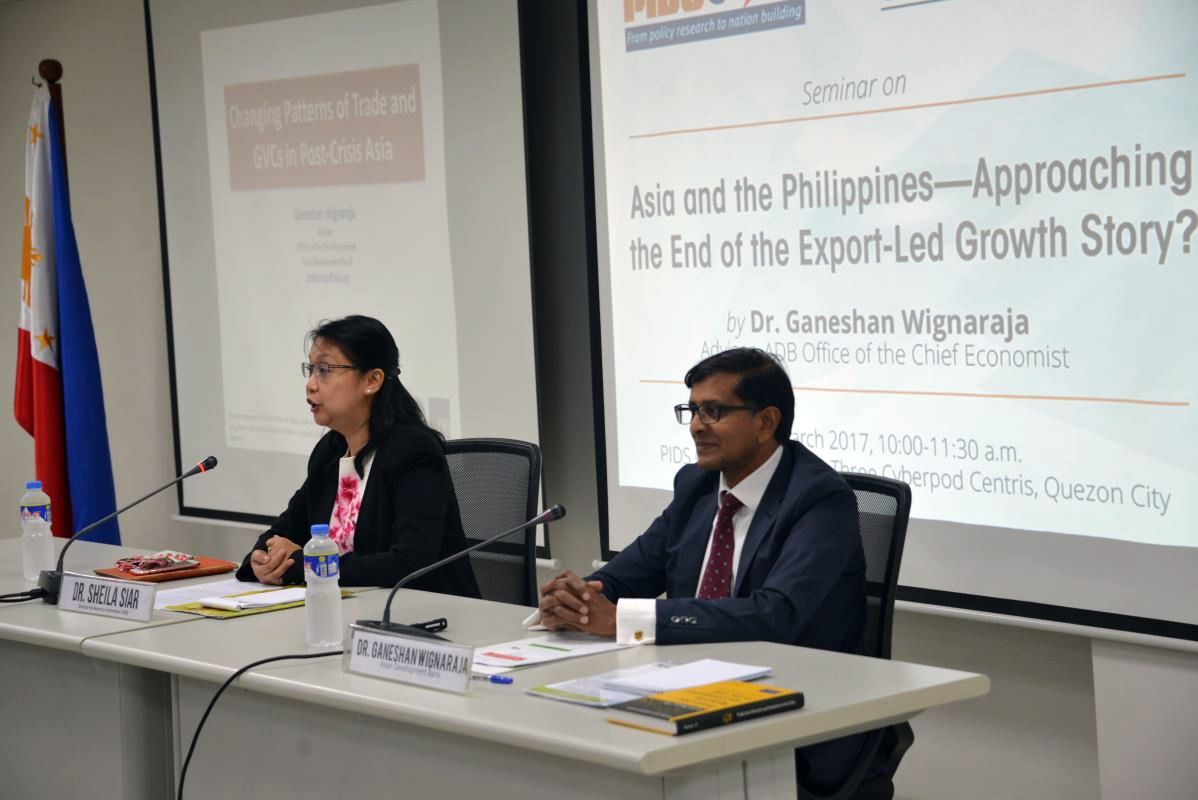 The Philippine Institute for Development Studies (PIDS) will hold a Seminar on "Asia and the Philippines—Approaching the end of the export-led growth story?" on March 16, 2017, Thursday, 10:00 a.m. to 11:30 a.m., at the PIDS Conference Room, 18th Floor, Three Cyberpod Centris - North Tower, EDSA corner Quezon Avenue, Quezon City.

Asia's famous export-led growth story that brought unprecedented prosperity seems to have changed since the 2008 global financial crisis. The region's trade-to-GDP ratio has slowed since then. Meanwhile, the new US administration's America-first stance during a global trade slowdown has sparked worries about protectionism.

The Philippines has long pursued open trade and foreign direct investment policies and is chairing the Association of Southeast Asian Nations this 2017 under an uncertain global economy. Thus, the key question for business and policymakers are: (1) what explains the trade slowdown, (2) would the slowdown become the new normal, and (3) what policies can foster new sources of trade growth.

Dr. Ganeshan Wignaraja, advisor at Asian Development Bank's (ADB) Office of the Chief Economist, will try to address these questions and explore the implications for Asia and the Philippines.

Dr. Wignaraja has worked for the ADB since 2004. He was previously director of research of the ADB Institute in Tokyo, head of trade and competitiveness at Maxwell Stamp PLC in London, and an economist at the Organisation for Economic Co-operation and Development office in Paris.
Gallery
---