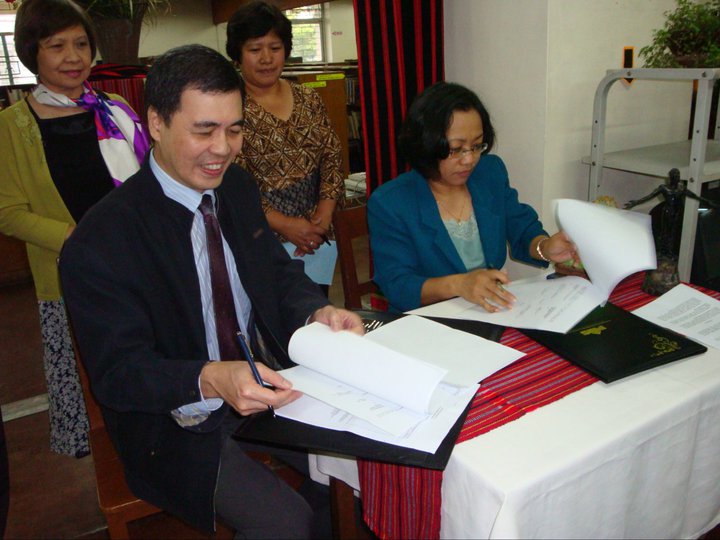 The Philippine Institute for Development Studies (PIDS) inaugurated its 12th PIDS Corner at the Filipiniana Section of the University of the Philippines Baguio Library on July 22, 2009.

The corner, however, is the first one set up by the Institute in the Cordillera Region.

"The PIDS Corner in the Cordillera Region will be open to all students as well as professionals", said UP Baguio Chancellor Dr. Priscilla Macasantos as she welcomed the students, faculty, and librarians from other Cordillera schools present during the launching event.

Dr. Macasantos also noted that the new addition to the UP Baguio Library collection will benefit all the University's students, especially from the Social Sciences Department. PIDS President Dr. Josef Yap, for his part, expressed gratitude to the UP Baguio community for agreeing to host the PIDS Corner in their University. The inauguration of the first PIDS Corner in the Cordillera, according to Dr. Yap, is a way of strengthening PIDS' thrust of disseminating research outputs throughout the country.

The proximity of the UP Baguio to other educational institutions in the region such as Abra State Institute of Science and Technology, Apayao State College, Baguio Central University, Benguet State University, Kalinga-Apayao State College, and Saint Louis University may also facilitate the establishment of tie-ups and sharing resources among these academic institutions, thereby maximizing the utilization of the PIDS Corner's collection.
Gallery
---