Seminar Info
---
May 10, 2017 2:00 PM
PIDS Conference Room, 18/F Three Cyberpod Centris-North Tower, EDSA, Quezon City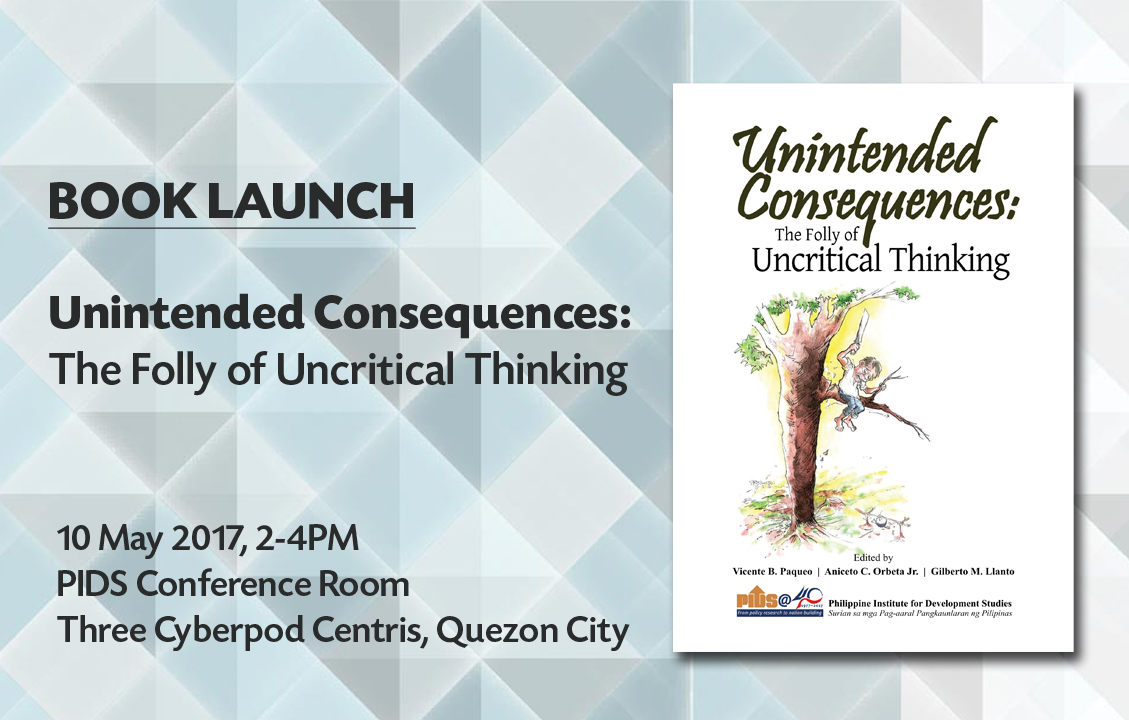 The Philippine Institute for Development Studies (PIDS) will hold a formal book launch for its new book, "Unintended Consequences: The Folly of Uncritical Thinking", on May 10, 2017 at the PIDS Office in Centris, Quezon City.
This book was co-edited by Vicente Paqueo, Aniceto Orbeta, Jr., and Gilberto LLanto, visiting research fellow, research fellow, and president, respectively, at PIDS.
It is a book on the law of unintended consequences. It contains 10 chapters that tackle the most prevalent, relevant, and urgent socioeconomic issues that confront the Philippine society today—from food security, housing rent, small enterprises, and environmental concerns like overfishing and logging, to contentious subject matters such as sex education, minimum wage, conditional cash transfer, and temporary employment. The book reveals the unintended consequences of policy solutions in these areas and underscores the need for a more nuanced and evidence-based approach to the policymaking process.
There will be presentations of selected chapters of the book to be followed by a commentary and an open forum. We will end the event with a simple refreshment reception.
You may download an e-copy of the book here:
http://pidswebs.pids.gov.ph/CDN/PUBLICATIONS/pidsbk2017-unintended_fnl.pdf.
For more information about this event, please contact:
PIDS Public Affairs Division
Tel. No.: 89774016 / 8774017 /877-4032
Email: inquiries@mail.pids.gov.ph
Gallery
---